HAPPY HALLOWEEN!
This is an online portal for Toy Story that anyone is free to edit.
Spoilers will be present!
ABOUT THE MOVIE
Toy Story is Pixar's first full film which was produced by Pixar Animation Studios and released by Walt Disney Pictures in US theaters on November 22, 1995.
Learn More
USERS
You must be logged-in in order to edit or comment on the New Toy Story Wiki.


You must be 13 years of age (16 in California & the European Economic Area (EEA)) or older in order to create an account.


It is against the Terms of Service for users under this age to create or use Fandom accounts.
FANON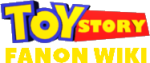 As we try to keep a good, clean, and canon database for Toy Story, we don't want the Wiki to be cluttered with fanon material. You may upload, however, clean fanon pictures to your userpage and/or blog. You may also visit our wiki, Toy Story Fanon Wiki, for fanon material as well.